10 Ways To Use ChatGPT as a Real Estate Agent in 2023
We asked ChatGPT directly "what kind of content can you write for me" and the screenshot above is the response we got! Now if you want to know specifically how ChatGPT can be used for your real estate business then keep reading below the screenshot. No one is 100% sure how long this AI Tool will be available for free, but for those who are making use of it in their business it sure is saving time and streamlining things. We're breaking down 10 ways you can use it in your business – including the specific prompts you can copy/paste to accomplish that specific task.
#1 - Generate Content Ideas
This one is probably the most talked about thing on the internet when it comes to ChatGPT. Coming up with ideas for "what to post next" can feel daunting! Especially when you're juggling showings, prospecting, appointments, marketing your newest listing, client follow up, contracts, and more. So why not get some help and use the time you would have spent brain storming to do something more productive!
Here is your prompt: Tell ChatGPT "Write me a list of X topics for a real estate agent to make videos teaching [insert prompt]" OR you can ACCESS 365 SOCIAL and get a list of 400 Content Prompts right now that will help you attract your ideal clients on social media.
#2 - Creating Outlines for Video Content
Now we prefer to just use the outlines tools like ChatGPT or Jasper have to offer because, well, let's be honest – we each have our own unique personalities and when you script videos word-for-word that sort of gets stripped away! You can use the prompt below to help get the AI to give you a script, but we recommend making sure you put your own spin on it.
Here is your prompt: Tell ChatGPT "Please write me a X minute video script for a Realtor explaining [insert content prompt idea]"
#3 - Blog/Copy Writing
If you've been struggling to keep up with putting out fresh blog content for your real estate website then this one is for you. Yes, we 100% recommend customizing the blog post the AI tool creates for you. Now you might be thinking, "well what's the point I might as well write it myself!?" The point is to save time! Cure "writers block"! Put out MORE CONTENT at a higher rate, MORE CONSISTENTLY!
Here is your prompt: Tell ChatGPT "Please write a X word blog for a realtor's website explaining [insert content prompt idea]"
Combine with video content of you actually breaking down the content and you've achieved a new level: EXPERT content creator!
#4 - Short Form Video Content Scripts
For this one you'll want to tweak the beginning and ending. What you want it to add a hook to make sure you "stop the scroll" and then make sure you add a CTA (Call To Action) so you can move the needle in your business.
Here is your prompt: Tell ChatGPT "Please write a X second video script for a real estate agent explaining [insert content prompt idea]"
#5 - Writing Your Email Marketing
NOW THIS is a super cool one! If you've been dreaming of setting up a customized drip campaign to the prospects you add to your CRM, or sending out a weekly email – this is the one you should take advantage of.
Here is your prompt: Tell ChatGPT "Please write me an email for a real estate agent to send to their email list about [insert content prompt idea]"
#6 - Rewrite or Repurpose Content from Other Creators
If you know another Agent or Broker who is killing the game with their blog or email content you can now use this to your advantage. Publishers across magazines, newspapers and event authors have used this strategy for over a century! The difference is now you don't have to go through and read each article and then sit there rewriting it. Ask ChatGPT to rewrite the article for you, then add your own spin. This cuts the time by more than 2/3rds!
Here is your prompt: Tell ChatGPT "Please re-write this article [Paste the article]"
#7 - Write a Sales Funnel
You can have a lot of fun with this one – especially if you're into creating landing pages and running Facebook or Google Ads to them. When you use this strategy be sure to test the hook, use photos/videos on the landing page, and make sure that your call to action is very clear and easy to see/fill out. Check out the screenshot below!
Here is your prompt: Tell ChatGPT "Please write a X word sales funnel script for a real estate agent sales page offering a free home valuation and marketing proposal"
#8 - Translating Content To Another Language
Now you could use this to help you communicate with a buyer or seller when there is a language barrier, but in our opinion it's best to refer that deal to a native speaker OR partner up with an agent (who speaks the language) on the deal. Where we do like this particular strategy of using ChatGPT is if you are a multi-lingual agent or broker and you want to create more content in the other language(s). Take your english based content, serve it up to ChatGPT to translate in seconds, proof-read/tweak it (there will be nuances with dialects and slang), and post it! Time saved, double the content!
Here is your prompt: Tell ChatGPT "Please re-write this article in X language [paste the article]"
#9 - Writing Short Instagram & Facebook Captions
If you're using a tool like 365 Social that gives you hundreds of social media content prompts, you're bangin' out the content, but you just feel overwhelmed when it comes time to write the captions for every single post – ask ChatGPT to get it done! This is incredibly time saving when you're sitting there scheduling your content in a planning app and you can do it all in one shot!
Here is your prompt: Tell ChatGPT "Please write an instagram caption for a real estate agent post about [insert caption content prompt idea".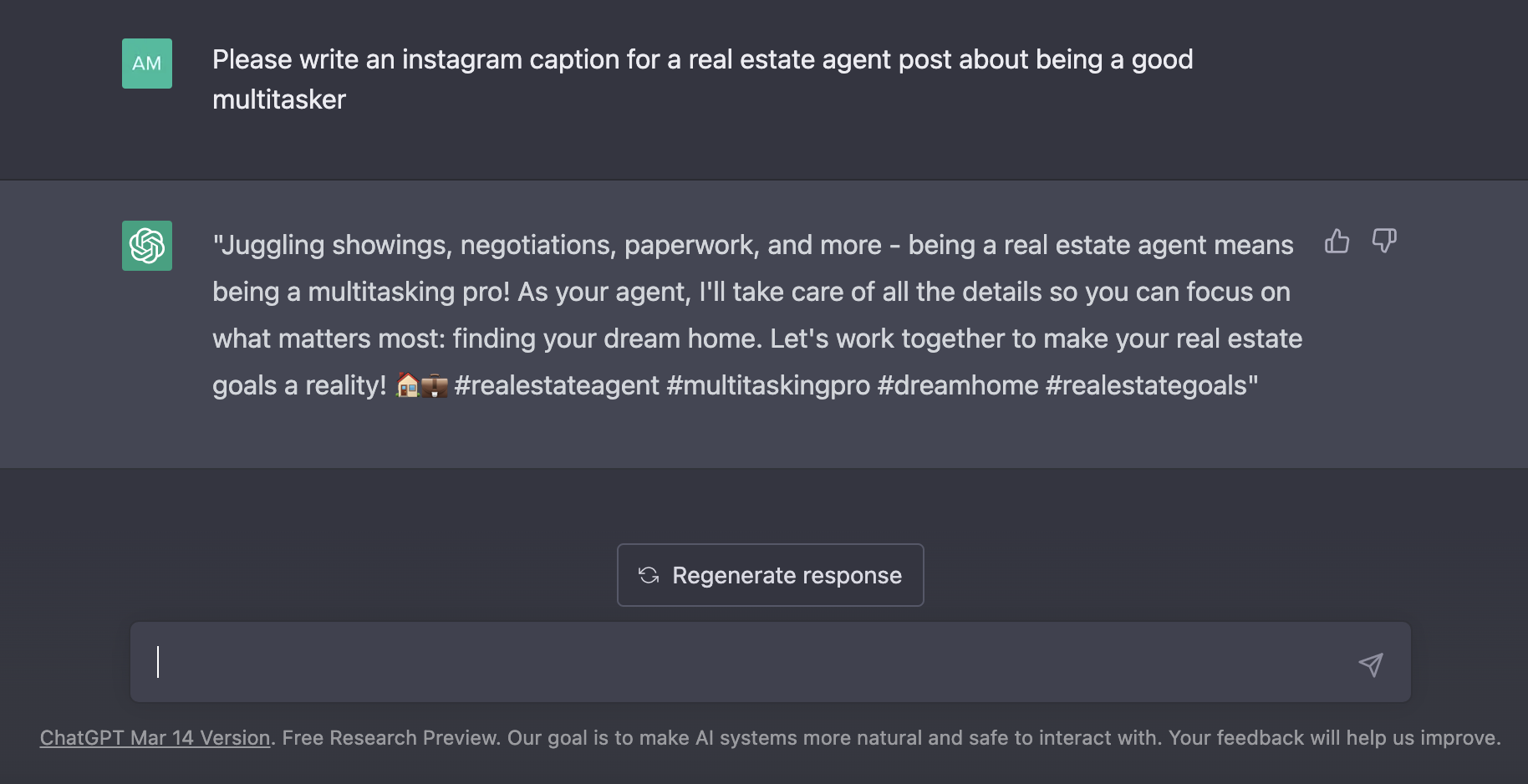 #10 - Writing Facebook Ads Copy
You definitely want to customize this one – especially if you're trying to reference any real-time market data. Using this strategy is more so about avoiding writers block, getting ideas for your Ad's "hook" and being able to test different types of ad copy that you might not have come up with yourself.
Here is your prompt: Tell ChatGPT "Please write me a facebook ad script for a real estate agent offering [insert offer] in [insert location]".
If the idea of having a running list of done-for-you content ideas (over 365+), and pre-designed Canva templates you can use to help brand and grow your real estate business with Social Media sounds awesome – check out 365 Social below!
Dive Deeper! Get
INSTANT ACCESS

To 365 Social Now!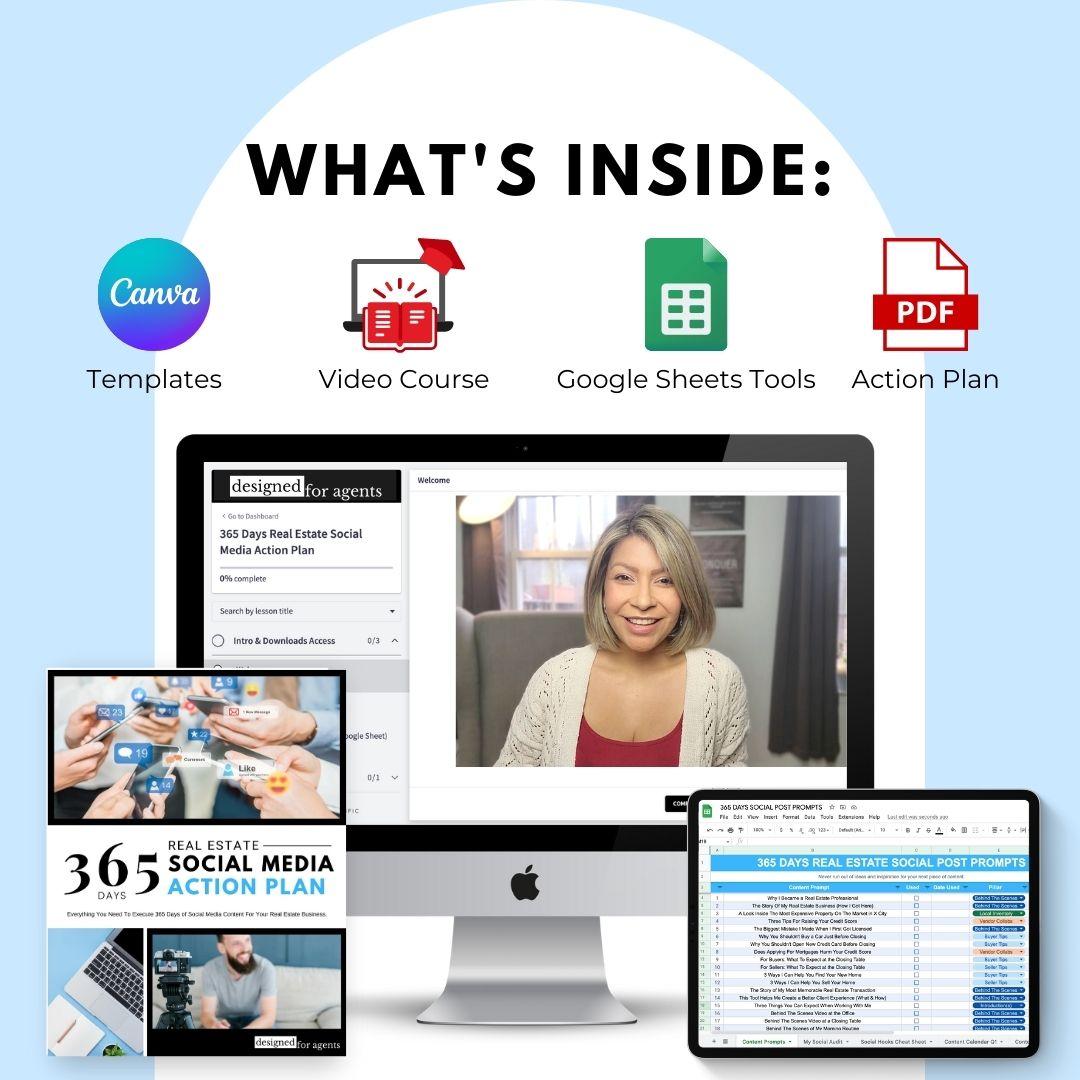 Everything You Need To Execute a Year of Content For Your Real Estate Business
Never run out of ideas for your next post! With 365 Social you have access to over 365+ Social Media Content Prompts and all the tools you need to conquer your Social Strategy, and Generate Buyer and Listing Leads Organically on Social Media.
INCLUDES:
365+ Social Content Prompts ($99 Value)

Video & Caption Hooks Cheat Sheet

The Social Audit (For 7-different Platforms)

1-Year Content Calendar

38-Page Action Plan with Worksheets ($79 Value)

7-Day Step-by-Step Content Planning Action Plan

155 Minute Video Course ($199 Value)

Canva Video & Carousel Post Templates ($99 value)

BONUS: 4-Week Social Media Calendar ($29 Value)

BONUS: 30-Day Content Planning Session ($99 Value)
A Total $604 Value for $99
365+ Content Prompts – NEVER Run Out Of Ideas For Your Next Post
We know running your Real Estate Business requires focus and whether you're a Top Producer or Newly Licensed – coming up with ideas for Social Media Posts, managing a Strategy, and getting Engagement on your posts can seem like a full-time job. It doesn't have to be!
Take the stress away by opening up your Google Sheet Tool and selecting any of the 365+ Content Prompts, and schedule it into your Calendar.
It's Easy and Stress Free!
We'll walk you through Customizing your Canva Templates, Shooting Your Videos, Adding Captions to your Short-Form Vertical Videos, and executing an entire month of Social Content Planning.
How It Works:
After Checkout you'll receive a Welcome Email with access to our Student Portal where you can create a password, then instantly access your Video Course, Google Sheets Tools, and Action Plan PDF.
We'll be adding a special behind the scenes recording of our Co-Founder, Amanda Fazelani, as she walks you through a LIVE Content Planning Session so you can execute 30-days of content side-by-side with an experienced social media content marketer.
Enjoy Content Ideas Created For YOU So You Can Attract
Buyers, Sellers, Showcase Your Listings, Highlight Your City, and Collaborate with Lenders, Credit Specialists, Interior Designers and Other Local Businesses.
Frequently Asked Questions 
Become a Better Real Estate Marketer One Monday at a Time with Marketing Mondays! Sign Up Now!