7 EASIEST Instagram Stories You Can Post Everyday To Grow Your Real Estate Business
Showing up on Social Media consistently can feel overwhelming. Especially as a Real Estate Professional when you're busy running around all day managing showings, contracts, offers, and appointments. In this video we're breaking the 7 EASIEST Instagram Stories you can post every single day that don't take a ton of time, effort, and most don't even require showing your face on camera. Showing up consistently on your Instagram and Facebook Stories helps deepen the relationship between you and your audience. It's worth adding to your content strategy. So let's dive in to the video!
Instagram is one of the most popular social media channels for businesses to communicate with their customers in today's world. However, with the constant changes in algorithms and trends, it's becoming increasingly difficult to gain a following on the platform. But fear not, these are the seven easy Instagram story ideas that can help real estate professionals build their businesses and close more deals without paying for advertising.
To begin with, Instagram stories are no longer just for building your audience. Nowadays, they're used for deepening relationships with your followers and building brand evangelism. Therefore, consistency is key when it comes to posting Instagram stories. One idea for consistent posting is to share your favorite morning activity. Whether it's yoga, a morning workout, or simply enjoying a cup of coffee, posting about it daily will create relatability and consistency.
Secondly, show your to-do list on your Instagram story. This is an excellent way to show that you're busy and always on the go. As a real estate professional, people are generally interested in what you do day in and day out, so showcasing your daily tasks can be an effective way to build your brand.
Next, share a daily inspirational quote or message. This is an easy and effective way to provide value to your followers and connect with them on a deeper level. By consistently sharing uplifting content, you can help build trust and create a positive association with your brand.
The fourth Instagram story idea is to showcase your workspace. Whether you have a home office or work in a brokerage, sharing your workspace can be an excellent way to give your followers a glimpse into your world. This can create a personal connection with your audience and build brand authenticity.
The fifth idea is to share a behind-the-scenes look at a property. This can include showcasing the process of getting a property ready for sale, staging the property, or even a virtual tour. Giving your followers a sneak peek into the world of real estate can be an exciting and interesting way to engage with your audience.
Sixth, a "Meet the Team" Instagram story series. This can be an excellent way to showcase the personalities behind your brand and create a personal connection with your audience. You can showcase team members' roles, share their interests and hobbies, and even showcase a day in their life.
Finally, a Q&A session on your Instagram story. This is a great way to engage with your followers and answer any questions they may have about real estate. It can also help establish you as an expert in your field.
In conclusion, Instagram stories can be an incredibly effective way for real estate professionals to connect with their audiences and build their brand. By consistently sharing relatable and interesting content, you can deepen relationships with your followers and create brand evangelism. So, try out these seven easy Instagram story ideas and see how they work for you!
Dive Deeper! Get
INSTANT ACCESS

To 365 Social Now!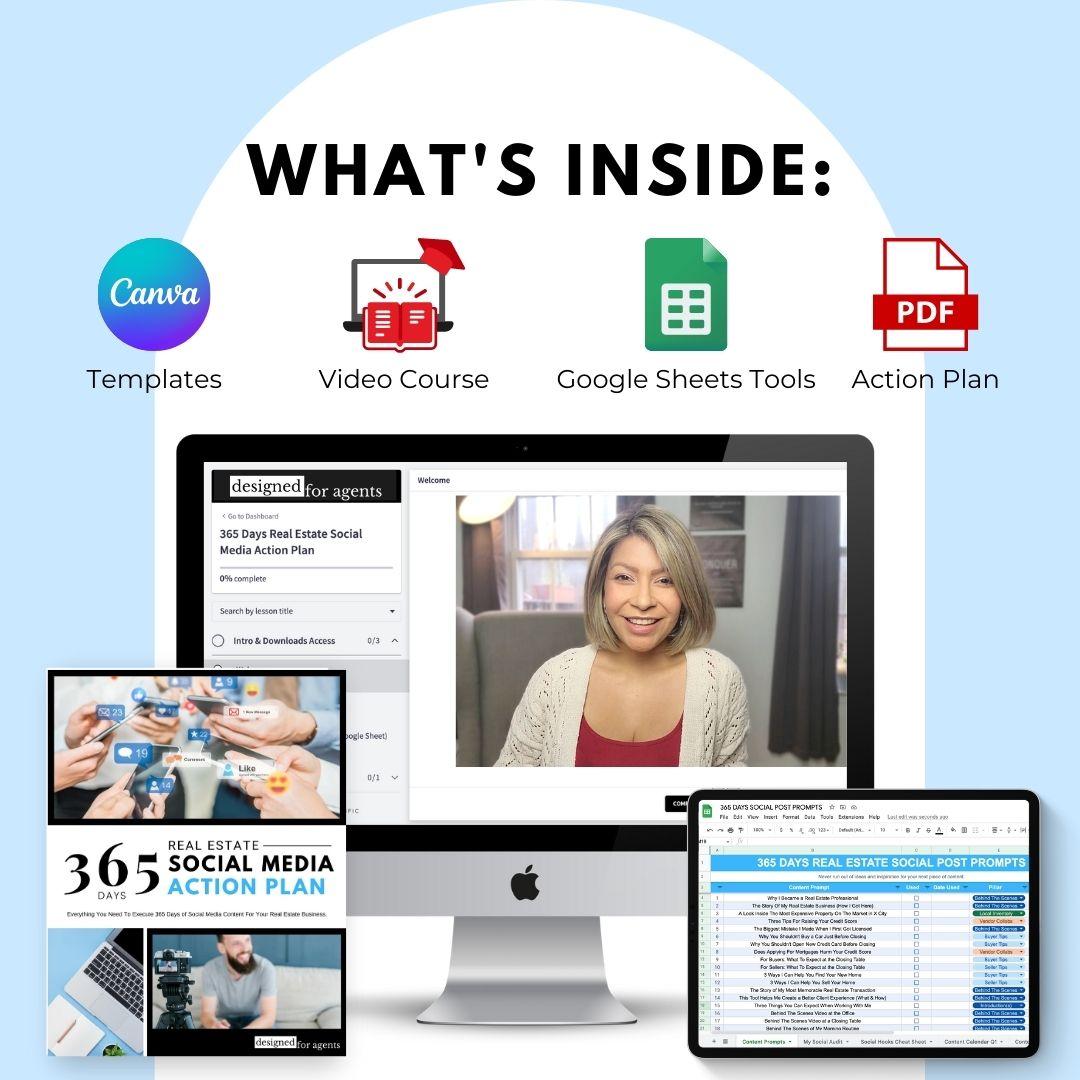 Everything You Need To Execute a Year of Content For Your Real Estate Business
Never run out of ideas for your next post! With 365 Social you have access to over 365+ Social Media Content Prompts and all the tools you need to conquer your Social Strategy, and Generate Buyer and Listing Leads Organically on Social Media.
INCLUDES:
365+ Social Content Prompts ($99 Value)

Video & Caption Hooks Cheat Sheet

The Social Audit (For 7-different Platforms)

1-Year Content Calendar

38-Page Action Plan with Worksheets ($79 Value)

7-Day Step-by-Step Content Planning Action Plan

155 Minute Video Course ($199 Value)

Canva Video & Carousel Post Templates ($99 value)

BONUS: 4-Week Social Media Calendar ($29 Value)

BONUS: 30-Day Content Planning Session ($99 Value)
A Total $604 Value for $99
365+ Content Prompts – NEVER Run Out Of Ideas For Your Next Post
We know running your Real Estate Business requires focus and whether you're a Top Producer or Newly Licensed – coming up with ideas for Social Media Posts, managing a Strategy, and getting Engagement on your posts can seem like a full-time job. It doesn't have to be!
Take the stress away by opening up your Google Sheet Tool and selecting any of the 365+ Content Prompts, and schedule it into your Calendar.
It's Easy and Stress Free!
We'll walk you through Customizing your Canva Templates, Shooting Your Videos, Adding Captions to your Short-Form Vertical Videos, and executing an entire month of Social Content Planning.
How It Works:
After Checkout you'll receive a Welcome Email with access to our Student Portal where you can create a password, then instantly access your Video Course, Google Sheets Tools, and Action Plan PDF.
We'll be adding a special behind the scenes recording of our Co-Founder, Amanda Fazelani, as she walks you through a LIVE Content Planning Session so you can execute 30-days of content side-by-side with an experienced social media content marketer.
Enjoy Content Ideas Created For YOU So You Can Attract
Buyers, Sellers, Showcase Your Listings, Highlight Your City, and Collaborate with Lenders, Credit Specialists, Interior Designers and Other Local Businesses.
Frequently Asked Questions 
Become a Better Real Estate Marketer One Monday at a Time with Marketing Mondays! Sign Up Now!