How To Audit Your Social Media Profile To Get Real Estate Leads
As a real estate agent or broker, you're probably looking to generate leads from social media platforms like Instagram or Facebook without having to pay for ads. But when was the last time you audited your social profiles and made sure they were fully optimized? Let's break down the key things you need to consider when auditing your social media profiles to get more leads. (There's a FREEBIE for you down below!)
If you're a real estate agent or broker looking to generate leads from social media platforms like Instagram or Facebook without paying for ads, optimizing your social profiles is essential. In this blog post, we'll discuss how you can audit your social profiles and ensure they are 100% optimized for lead generation. By following these nine simple steps, you can maximize your online presence and attract potential clients organically.
Step 1: Add a Personal PhotoWhen auditing your social profiles, make sure you have a clear photo of yourself. Avoid using brokerage logos or artwork. Real estate is a people-to-people business, and potential clients want to see the face behind the agent. Adding your photo helps establish trust and connection with your audience.
Step 2: Include Your Name
Ensure that your profile clearly displays your name. Avoid generic profile names or using only the brokerage name. Including your name helps establish your personal brand and makes it easier for people to recognize and remember you.
Step 3: Define Your Specialization
Specify your area of expertise or specialization in your profile. Whether you specialize in foreclosures, luxury properties, first-time homebuyers, or any other niche, clearly communicate it to your audience. Being specific about your expertise sets you apart from other agents and helps potential clients understand how you can help them.
Step 4: Mention Your Market Area
Indicate the city or state where you operate. This information is crucial for potential clients who are specifically looking for an agent in their desired location. Clearly stating your market area helps potential clients identify you as someone knowledgeable about their desired location.
Step 5: Provide Contact Information
Make it easy for potential clients to reach out to you. Utilize the contact features provided by each social media platform or mention your preferred method of contact in your profile. Include your email, phone number, or encourage direct messaging. Ensuring accessibility increases the chances of inquiries and connections.
Step 6: Offer Value in Your Content
Evaluate the content you share on your social media profiles. Are you providing value to your audience? Ensure that your posts are not solely focused on property listings but also offer informative and engaging content related to real estate. Providing valuable content positions you as a knowledgeable professional and encourages potential clients to follow and engage with your profile.
Step 7: Make Contacting You Easy
Consider the ease of contacting you from your social media profiles. If direct messaging is not your preferred method of communication, set up alternative ways for potential clients to reach out, such as phone calls, emails, or other messaging apps. Making it convenient for people to contact you increases the likelihood of engagement and lead generation.
Step 8: Show Up Consistently
Consistency is key to maintaining an active and engaging social media presence. Regularly share content, interact with your audience, and stay active on your chosen platforms. Showing up consistently demonstrates your commitment and professionalism to potential clients.
Step 9: Optimize Your Bio Link
Review the link provided in your bio and ensure it leads to a valuable resource for potential clients. Avoid linking to generic websites or platforms like Zillow. Instead, direct them to sign up for your email list, explore the latest property listings on your IDX-enabled website, or access other valuable resources that can help them in their real estate journey.
Step 10: Showcase Your Personality
Don't be afraid to let your personality shine through your social media profiles. Share personal details or interests that make you relatable to your audience. Whether it's your love for coffee, pets, or your unique sense of humor, showcasing your personality helps humanize your online presence and establishes a connection with potential clients.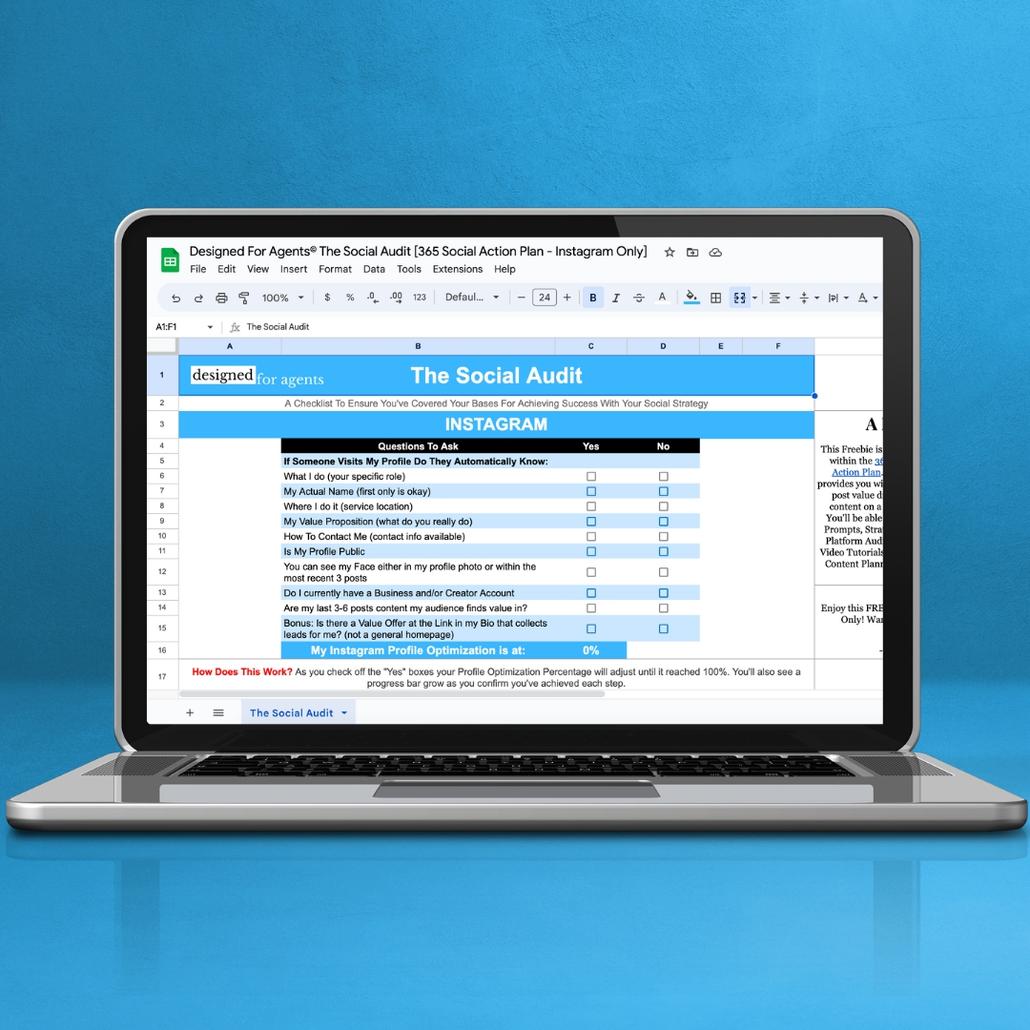 Access Your
FREE Instagram Audit

Tool Now!

A full checklist with everything your Instagram Profile should showcase in order to make sure your Content Marketing efforts aren't a waste of time. A 100% optimized profile is one that can generate leads for you – but you've got to check off all the boxes! Sign up below to have the tool emailed to you for FREE!
Here Are 9 key Things To Consider:
Is there a photo of you?

Make sure you have a photo of yourself on your profile, not the brokerage logo. People want to know who they are dealing with, so having a photo of yourself is essential.

Is your name on there?

Make sure you have your first and last name on your profile. It is required by law in most states to have your name and licensed information on your social profile.

Is your bio filled out?

Your bio should tell people who you are, what you do, and how you can help them. It should be clear and concise, and it should be easy to read.

Are your contact details up-to-date?

Make sure your contact details are correct and up-to-date, so people can reach out to you if they need to.

Do you have a call-to-action (CTA)?

Your social profile should have a clear CTA that tells people what you want them to do next, such as "contact me for more information" or "click the link to visit my website."

Do you have a website link?

Include a link to your website so people can learn more about you and your services.

Is your branding consistent?

Make sure your branding is consistent across all social platforms. This means using the same logo, colors, and fonts.

Are you posting regularly?

You need to post regularly to keep your followers engaged and interested in your content. Post at least once a day, but no more than three times a day.

Are you engaging with your followers?

Engage with your followers by responding to their comments and messages. This will show that you care about them and their needs.
By following these tips, you can audit your social profiles and make sure they are fully optimized to generate more leads. Remember, social media is a powerful tool for real estate agents and brokers, but it only works if you use it effectively. So, take the time to audit your social profiles and make the necessary changes to get more leads.
Shop Agent & Broker Favorites
Become a Better Real Estate Marketer One Monday at a Time with Marketing Mondays! Sign Up Now!