How To Shoot Educational Reels Videos That Attract Real Estate Clients On Social Media
(Step-by-step Tutorial PLUS Adding Captions)
We've reached the point in Social Media Content Marketing where vertical video content is unavoidable! As a real estate professional if you haven't jumped on to creating educational vertical video with captions you are missing out on GOOD STUFF!! (Aka getting leads, building brand, expanding your audience, closing more deals, etc). In this video we're breaking down step-by-step how to shoot vertical video, batch your content, come up with content ideas, and add captions to your final videos...because we all know a lot of us watch videos without the audio on!
Social media content marketing is constantly evolving, and it's important to keep up with the trends to stay ahead of the competition. One trend that has been gaining traction in recent years is vertical video content. If you're a real estate professional who hasn't yet embraced this trend, it's time to start creating educational vertical videos with captions. This type of content can help you get more leads, build your brand, expand your audience, and close more deals. In this blog post, we'll break down the steps to shoot vertical video, batch your content, come up with content ideas, and add captions to your final videos.
Why Vertical Video?
Vertical video is becoming increasingly popular on social media platforms like Instagram and TikTok. In fact, according to a recent study by Animoto, 75% of millennials and Gen Z consumers watch vertical videos regularly, and 60% prefer them over horizontal videos. So, why the preference for vertical videos? It all comes down to user behavior. Most people hold their phones vertically when using social media, making it more natural to consume vertical videos. Additionally, vertical videos take up more screen real estate, making them more eye-catching and engaging.
Step-by-Step Guide to Shooting Vertical Video
Start by turning your phone vertically. This may seem obvious, but it's important to make sure you're shooting in the right orientation.
Consider using a tripod or stabilizer to keep your phone steady and prevent shaky footage.
Be mindful of your lighting. Natural light is always a good option, but if you're shooting indoors, make sure you have enough light to avoid grainy footage.
Use your phone's camera app to set your focus and exposure. You can tap on the screen to set the focus and slide your finger up or down to adjust the exposure.
Record your video! Keep in mind that vertical videos should be shorter and more concise than horizontal videos.
Batching Your Content
Now that you know how to shoot vertical video, it's time to start creating content. One of the most efficient ways to do this is by batching your content. Batching involves setting aside a dedicated block of time to create multiple pieces of content at once. This can help you save time and stay organized. Here are a few tips for batching your vertical video content:
Set aside a specific day or time each week for content creation.
Brainstorm a list of content ideas beforehand so you know exactly what you'll be creating.
Create a shot list for each video so you can efficiently capture all the footage you need.
Record multiple videos in one sitting to make the most of your time.
Coming Up With Content Ideas
When it comes to creating vertical video content for real estate, there are endless possibilities. Here are a few ideas to get you started:
Showcase a property: Take viewers on a virtual tour of a property you're selling. This can help them get a feel for the space and make a decision about whether or not they're interested in scheduling a showing.
Share market updates: Keep your audience informed about the latest real estate trends and news in your area.
Offer tips and advice: Share your expertise by offering tips on home buying, selling, or staging.
Introduce yourself: Use vertical video to introduce yourself to potential clients and give them a glimpse into your personality and style.
Adding Captions to Your Videos
Finally, it's important to add captions to your vertical videos. Many viewers watch videos with the sound off, so captions can help ensure your message is still getting across. You can add captions using a variety of tools, including Instagram's built-in captioning feature, third-party apps like Kap.
Dive Deeper! Get
INSTANT ACCESS

To 365 Social Now!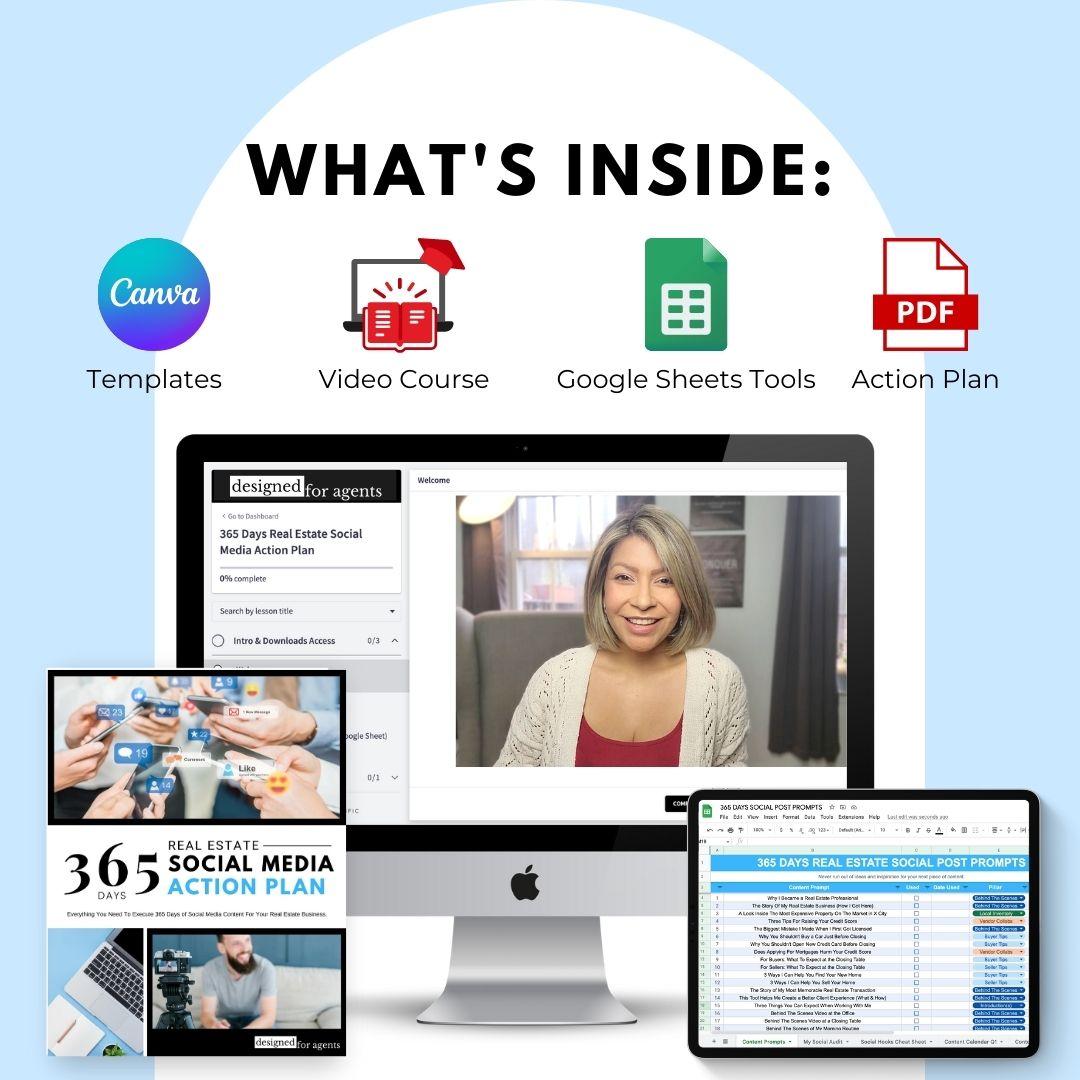 Everything You Need To Execute a Year of Content For Your Real Estate Business
Never run out of ideas for your next post! With 365 Social you have access to over 365+ Social Media Content Prompts and all the tools you need to conquer your Social Strategy, and Generate Buyer and Listing Leads Organically on Social Media.
INCLUDES:
365+ Social Content Prompts ($99 Value)

Video & Caption Hooks Cheat Sheet

The Social Audit (For 7-different Platforms)

1-Year Content Calendar

38-Page Action Plan with Worksheets ($79 Value)

7-Day Step-by-Step Content Planning Action Plan

155 Minute Video Course ($199 Value)

Canva Video & Carousel Post Templates ($99 value)

BONUS: 4-Week Social Media Calendar ($29 Value)

BONUS: 30-Day Content Planning Session ($99 Value)
A Total $604 Value for $99
365+ Content Prompts – NEVER Run Out Of Ideas For Your Next Post
We know running your Real Estate Business requires focus and whether you're a Top Producer or Newly Licensed – coming up with ideas for Social Media Posts, managing a Strategy, and getting Engagement on your posts can seem like a full-time job. It doesn't have to be!
Take the stress away by opening up your Google Sheet Tool and selecting any of the 365+ Content Prompts, and schedule it into your Calendar.
It's Easy and Stress Free!
We'll walk you through Customizing your Canva Templates, Shooting Your Videos, Adding Captions to your Short-Form Vertical Videos, and executing an entire month of Social Content Planning.
How It Works:
After Checkout you'll receive a Welcome Email with access to our Student Portal where you can create a password, then instantly access your Video Course, Google Sheets Tools, and Action Plan PDF.
We'll be adding a special behind the scenes recording of our Co-Founder, Amanda Fazelani, as she walks you through a LIVE Content Planning Session so you can execute 30-days of content side-by-side with an experienced social media content marketer.
Enjoy Content Ideas Created For YOU So You Can Attract
Buyers, Sellers, Showcase Your Listings, Highlight Your City, and Collaborate with Lenders, Credit Specialists, Interior Designers and Other Local Businesses.
Frequently Asked Questions 
Become a Better Real Estate Marketer One Monday at a Time with Marketing Mondays! Sign Up Now!