Do THIS To Get Real Estate Clients From Instagram
If you want to get Buyer and Seller Clients from the effort you put into Social Media, specifically on Instagram, then this video is for you. We're breaking down exactly what you need to do in order to attract and convert your ideal client in your Market. We understand the frustration of posting consistently and wondering what's it all for! Take the frustration away and follow the tips in this video.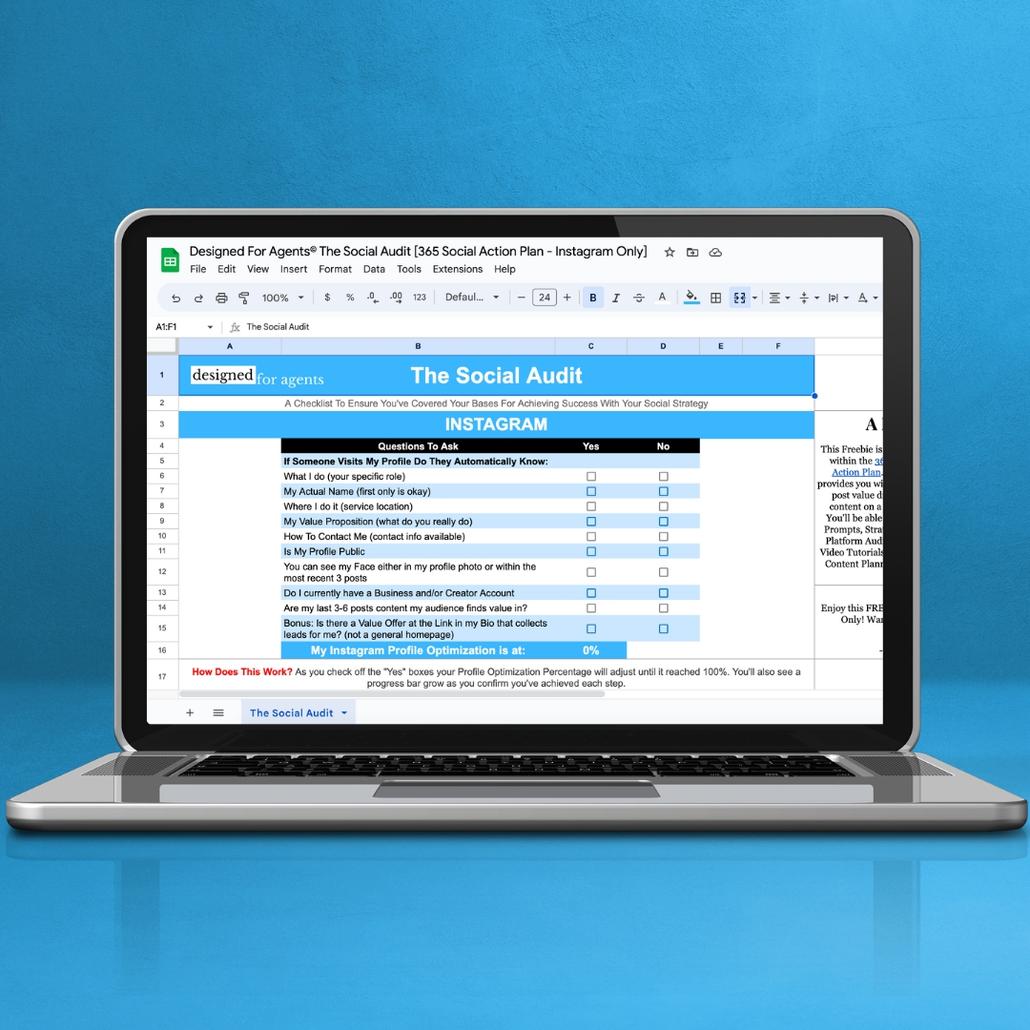 Access Your
FREE Instagram Audit

Tool Now!

A full checklist with everything your Instagram Profile should showcase in order to make sure your Content Marketing efforts aren't a waste of time. A 100% optimized profile is one that can generate leads for you – but you've got to check off all the boxes! Sign up below to have the tool emailed to you for FREE!
Social media is a significant tool in the real estate industry that can assist real estate brokers in generating leads and closing more deals. However, despite the myriad social media gurus out there instructing you what to do, getting buyers and sellers to DM you or sign up on your website can be difficult. In this video, you'll discover what's lacking from your social media recipe and discover one critical ingredient that will help you generate more leads without spending money on advertising.
So, what exactly is this one important ingredient? It is the use of CTAs, or calls to action, in your social strategy. You may believe that you are already using CTAs, but it is critical to understand what proper CTAs for real estate agents are, where to use them, and why. You must also guarantee that you are sending them to the correct locations on a regular basis.
CTAs are very important every time you post content, whether it's in your video, caption, or stories. At a minimum, if you're posting five days a week, you should be using a CTA in your content three times a week. But what should this CTA be? It should be the link in your bio.
However, the link in your bio shouldn't be a link to your broker's website, the homepage of your website, or your Zillow profile. Making your Zillow profile or Zillow reviews the link in your bio is the worst possible thing you could do. Instead, the link in your bio should ideally be some type of offer on your website or a landing page tool where people can give you their contact information in exchange for something of value.
This "thing of value" could be a list of properties that are for sale, first access to a new listing, or a newsletter that provides tons of value. By providing something of value in exchange for contact information, you can then nurture those leads and eventually work with them to close more deals.
In conclusion, using CTAs in your social media content is a small but crucial tweak that can help you generate more leads and close more deals without paying for advertising. By ensuring that the link in your bio leads to an offer or landing page that provides value, you can attract more leads and build a successful real estate business.
Shop Agent & Broker Favorites
Become a Better Real Estate Marketer One Monday at a Time with Marketing Mondays! Sign Up Now!